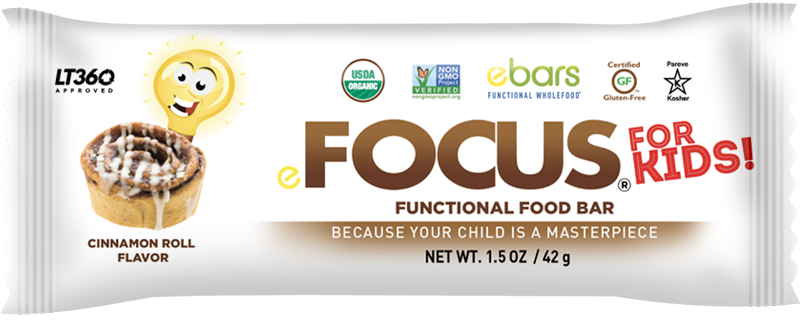 A NEW ERA IN ORGANIC PERFORMANCE ENHANCING NUTRITION.
A fun way to deliver nutrition to help kids stay Sharp.
Food is fuel. Like the cars we drive, the human body needs the right fuel in order to function, think, play, and work on a higher level.
Giving kids healthy options to eat increases their chances of better performance in school, after school activities and studies.
Proper "brain fuel" allows a child to concentrate, focus, and learn. If you find that your child's performance at school is slipping, grades are suffering or he or she is lacking the energy to get through the school day or complete homework, it could have something to do with your child's diet or lack of certain nutrients.
Children are absolute gifts. They deserve to have the best that this earth has to offer. The FOCUS Kids Bar is made with Yummy Super Food Ingredients. Every Whole Food ingredient that we use is USDA Certified Organic, Gluten Free, Non-GMO and Kosher. Last but not least: Soy-Free and Dairy-Free!
Cinnamon Roll FOCUS Kids Bar: Super Functional and Super FUN to eat!
ebars is a dedicated Organic facility. We do NOT share our equipment.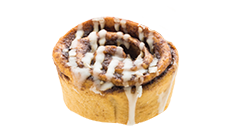 Focus 4 Kids!
Cinnamon Roll
When

to Use
Morning
As a filling replacement for your regular coffee.
Travel
Stash in your car, bag or luggage.
School
Supports improved focus and calmness for stressful days at school.
Ingredients

& Use
Lion's Mane
Lion's mane mushrooms contain bioactive substances that have beneficial effects on the body, especially the brain, heart and gut.
Cordyceps Militaris
Animal and lab studies suggest cordyceps may help boost exercise performance.
Guarana
Guarana is similar to caffeine, but with a slower release into the bloodstream. This results in extended energy as well as kick starting the nervous system to begin burning fat. The Mayo clinic says it's safe for an adult to consume up to 400mg a day and a child 100mg
Reishi
A 2012 study conducted by the Department of Pharmacology at Peking University found that reishi is capable of modulation of cytokines, the cell signaling compounds within the brain involved in immune and anti-inflammatory responses. Other studies show reishi protects the body against stress
Nutrition Info
| AMOUNT PER SERVING | | % DAILY VALUE |
| --- | --- | --- |
| Calories | 195 | |
| Total Fat | 9g | 14% |
| Saturated Fat | 2g | 10% |
| Trans Fat | 0g | 0% |
| Cholesterol | 0g | 0% |
| Sodium | 60mg | 2% |
| Potassium | 300mg | 5% |
| Total Carbohydrate | 18g | 6% |
| Dietary Fiber | 5g | 20% |
| Sugars | 9g | 18% |
| Protein | 8g | 16% |
Ingredients:
Organic Sunflower Seed, Organic Raw Unfiltered Honey, Organic Oats, Organic Flax Seed, Organic Apple Sauce, Organic Pumpkin Seeds,Organic Focus 4 Kids Mushroom Blend, Organic Cocoa Butter, Organic Chia Seed, Organic Pea Protein, Organic Banana Powder, Organic Coconut Sugar, Organic Strawberry Powder, Organic Coconut Oil, Organic Cocoa Powder, Organic Cinnamon, Organic Raspberry Powder, Organic Rice Crisps, Organic Blueberries Dried, Organic Cranberries Dried, Organic Guarana, Organic Extracts, Organic Himalayan Pink Salt, Organic Peanut, Organic Almond. Manufactured on equipment that processes peanut, almond and coconut.
% Daily Values are based on a 2,000 calorie diet. + Daily Value not established.