KETO
KETOGENIC EBAR TOTALLY ORGANIC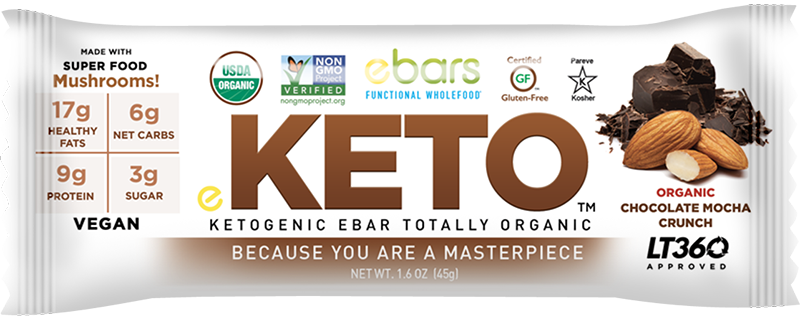 We fit right into your keto diet.
The KETO bar is the best way to satisfy your need for quick nutrition while maintaining the metabolism that helps you burn fat.
Crafted for the Ketogenic Diet
The ketogenic diet has one primary purpose; to trigger your body to burn "fat" instead of "sugar or carbs" for fuel. In fact, research shows that the ketogenic diet is far superior to the often-recommended low-fat diet.
Burns fat while satisfying your nutrition
KETO (Ketogenic Ebar Totally Organic) has a Low Glycemic Index and has been crafted to deliver great flavor along with exceptional nutrition while conforming to the KETO ratios. The typical KETO diet is based on 70% healthy fats, 20% protein, and 10% Carbs. Sugar or spikes in blood sugar play havoc with your body's natural metabolism and sabotages your intentions to choose better nutrition and eat healthy.
Mocha Chocolate Crunch - Great Taste!
Both coffee and chocolate lovers know that chocolate and coffee are a nice pair! We craft our chocolate from scratch, using yacon which is a low glycemic (1 on GI) sweetener. Because of this, KETO is Diabetic and Vegan friendly. We added a hint of mocha and crunch from almond bits throughout the bar to enhance the taste and texture.
Ingredients
Ingredients: Organic Raw Hemp Seed, Organic Almond, Organic Yacon Syrup, Organic Cocoa Powder, Organic Cocoa Butter, Organic Flax Seed, Organic Chia Seed, Organic KETO Mushroom Blend, Organic Pink Himalayan Salt, Organic Flavors, Organic Monk Fruit, Organic Peanut.
Contains: Almond, Coconut, Peanut (Trace Amounts)
Manufactured on equipment that processes peanut, almond, and coconut.
Nutrition Facts
Serving Size: 1 Bar (45g)
Amount/Serving
%Daily Value*
Total Carbohydrate

11g
8%
*Percent Daily Values are based on a 2,000 calorie diet
ebars is a dedicated Organic facility. We do NOT share our equipment.
The statements presented here have not been evaluated by the Food and Drug Administration. This product is not intended to diagnose, treat, cure, or prevent any disease.
KETO
Chocolate Mocha Crunch