Calm
Calm Anxiety Limit Mayhem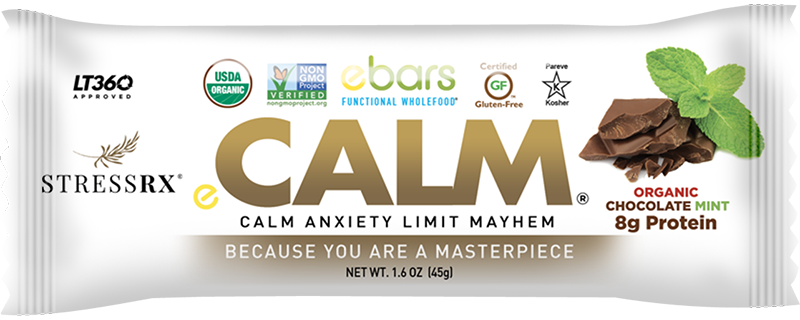 Calm... Cool... Collected
Maintaining a calm and clear mind is critical to a better life. This is why the CALM bar was created.
If you felt less stress would your life improve?
Many people battle stress on a daily basis. According to the CDC (Center for Disease Control) 85% of all doctor visits are stress related. There is no way to avoid stressful situations in life, but there are ways to be better prepared. Introducing CALM... a natural, non-habit forming whole food solution to help you better deal with stressful situations.
The first organic wholefood solution
There are multiple ways to lower stress levels, but the CALM bar is the first organic wholefood solution. CALM combines a proprietary, low-glycemic chocolate ('1' on the glycemic level), with neuro-enhancing adaptogens such as Ashwagandha, Rhodiola, and Cordyceps Militaris.
Function, taste, and nutrition
Many people experience the CALM effect within 15 minutes and can last as long as 4 hours. The CALM bar won't make you sleepy, however it can assist in helping you fall asleep if you take it near your normal bedtime.
Despite the CALM effects and the pure organic nutritional value from this bar, perhaps the most amazing thing you'll notice is the extraordinary taste. Made with our own 100% organic dark chocolate and combined with the right amount of fresh peppermint, we are confident you will love the taste and texture of these bars.
Ingredients
Ingredients: Organic Almond, Organic Yacon Syrup, Organic Raw Unfiltered Honey, Organic Oats, Organic Flax Seed, Organic Pumpkin Seed, Organic Apple Sauce, Organic Coconut Shreds, Organic Cranberries Dried, Organic Tart Cherry, Organic CALM Mushroom Blend, Organic Cocoa Butter, Organic Banana Powder, Organic Cocoa, Organic Coconut Sugar, Organic Cinnamon, Organic Coconut Oil, Organic Cranberry, Organic Ashwagandha, Organic Rhodiola, Organic Lemon, Organic Himalayan Pink Salt, Organic Flavoring, Organic Peanut.
Contains: Almond, Coconut, Peanut (Trace Amounts)
Manufactured on equipment that processes peanut, almond, and coconut.
Nutrition Facts
Serving Size: 1 Bar (45g)
Amount/Serving
%Daily Value*
Total Carbohydrate

22g
7%
Sugars
9g (incl. 7g Added Sugars)
18%
*Percent Daily Values are based on a 2,000 calorie diet
ebars is a dedicated Organic facility. We do NOT share our equipment.
The statements presented here have not been evaluated by the Food and Drug Administration. This product is not intended to diagnose, treat, cure, or prevent any disease.
Calm
Chocolate Mint