Focus Sport
For Optimal Clarity Under Stress
Optimal Focus & Clarity
The optimal focus is always a combination of calm and focus. The neurotransmitters responsible for this "zone" feeling are dopamine, serotonin, and adrenaline. FOCUS Sport effectively stimulates all three, simultaneously.The active ingredients responsible for this effect are whole organic guarana (not extract), whole organic (not extract) nootropic mushroom Lion's Mane. and whole organic (not extract) nootropic mushroom Cordyceps Militaris.
Pre or Post Workout
For greater workout intensity we recommend eating FOCUS Sport 30 minutes prior to the work. FOCUS Sport sits light on the stomach for ideal work out conditions. After consumption of the FOCUS Sport expect 30 minutes for the "focus" effect to begin. Many athletes report a sustained focus for 2.5 to 3.0 hours.
100% Organic Chocolate
We've gone the extra mile to give you a better product. Most all chocolates use either cane sugar as a sweetner, or lecithin in the place of cocoa butter to cut down on the cost. We use neither one. Our proprietary chocolate is sweetened with low glycemic yacon, and monk fruit. It is also absent of lecithin, a questionable soy derivative, used in place of a more expensive cocoa butter.
Ingredients
Organic Peanut, Organic Honey, Organic Oats, Organic Pumpkin Seeds, Organic Blueberries Dried, Organic Flax Seed, Organic Hemp Seed, Organic Apple Sauce, Organic Yacon Syrup, Organic Coconut Shreds, Organic Cranberries Dried, Tart Cherry, Organic FOCUS Sport Mushroom Blend, Organic Cocoa Butter, Organic Guarana, Organic Banana Powder, Organic Cocoa Powder, Organic Coconut Sugar, Organic Cinnamon, Organic Quinoa Crisps, Organic Coconut Oil, Organic Maca, Organic Extracts, Organic Lemon, Organic Himalayan Pink Salt, Organic Almond
Contains: Peanut, Almond, Coconut, Naturally Occurring Caffeine 28mg
Manufactured on equipment that processes peanut, almond, and coconut.
TRIM contains a LOW level of organic caffeine (28mg). Most adults can safely consume up to 400mg a day and most children up to 100mg a day.*
* Mayo Clinic
Nutrition Facts
Serving Size: 1 Bar (60g)
Amount/Serving
%Daily Value*
Total Carbohydrate

22g
7%
Sugars
9g (incl. 7g Added Sugars)
18%
*Percent Daily Values are based on a 2,000 calorie diet
ebars is a dedicated Organic facility. We do NOT share our equipment.
The statements presented here have not been evaluated by the Food and Drug Administration. This product is not intended to diagnose, treat, cure, or prevent any disease.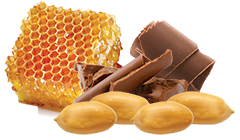 Focus Sport
Peanut Butter Chocolate