Optimal clarity is a combination of calm and focus. FOCUS Sport (v1.3) supports the brains natural ability to keep you focused under stress and is the next generation of athletic nutrition that relies completely on organic ingredients to stimulate the body and brain to function at their highest levels. In addition to Guarana, Focus Sport includes Lion's Mane and whole non-extract organic nootropic mushroom Cordyceps Militaris for brain support.
We recommend eating FOCUS Sport 30 minutes prior to workout. FOCUS Sport sits light on the stomach for ideal workout conditions. The FOCUS Sport effect will begin within 30 minutes. Many athletes report an effect for several hours but varies person to person.
We've gone the extra mile to give you a better product. Most all chocolates use either cane sugar as a sweetener or lecithin in the place of cocoa butter to cut down on the cost. We use neither one. Our proprietary chocolate is sweetened with low glycemic yacon and monk fruit. It is also absent of lecithin, a soy derivative, used in place of cocoa butter.
ebars is a dedicated Organic facility. We do NOT share our equipment.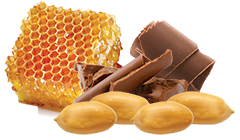 Focus Sport
Peanut Butter Chocolate
When

to Use
Morning
As a filling replacement for your regular coffee.
Afternoon
To energize you through the afternoon slump.
Workout
Enjoy before exercise for added energy.
Travel
Stash in your car, bag or luggage.
Work
Supports improved focus and calmness for stressful days at work.
Ingredients

& Use
Lion's Mane
Lion's mane mushrooms contain bioactive substances that have beneficial effects on the body, especially the brain, heart and gut.
Cordyceps Militaris
Animal and lab studies suggest cordyceps may help boost exercise performance.
Pumpkin Seed
Pumpkin seeds are full of antioxidants, and a healthy source for zinc, magnesium and tryptophan, which promote healthy sleep.
Guarana
Guarana is similar to caffeine, but with a slower release into the bloodstream. This results in extended energy as well as kick starting the nervous system to begin burning fat. The Mayo clinic says it's safe for an adult to consume up to 400mg a day and a child 100mg
Reishi
A 2012 study conducted by the Department of Pharmacology at Peking University found that reishi is capable of modulation of cytokines, the cell signaling compounds within the brain involved in immune and anti-inflammatory responses. Other studies show reishi protects the body against stress
Nutrition Info
| AMOUNT PER SERVING | | % DAILY VALUE |
| --- | --- | --- |
| Calories | 280 | |
| Total Fat | 13g | 20% |
| Saturated Fat | 2g | 10% |
| Trans Fat | 0g | 0% |
| Cholesterol | 0g | 0% |
| Sodium | 70mg | 2% |
| Total Carbohydrate | 22g | 7% |
| Dietary Fiber | 7g | 28% |
| Sugars | 9g | 18% |
| Protein | 10g | 20% |
| Potassium | 360mg | 6% |
Ingredients:
Organic Peanut Butter, Organic Raw Unfiltered Honey, Organic Oats, Organic Pumpkin Seeds, Organic Blueberries Dried(Apple Juice Infused), Organic Flax Seed, Organic Hemp Seed, Organic Apple Sauce, Organic Yacon Syrup, Organic Coconut Shreds, Organic Cranberries Dried(Apple Juice Infused), Organic Pea Protein Isolate Powder, Organic Chia Seed, Organic Brown Rice Crispies, Organic FOCUS Sport Mushroom Blend(Reishi, Lions Maine, Cordyceps), Organic Cocoa Butter, Organic Guarana, Organic Cocoa Powder, Organic Coconut Sugar, Organic Cinnamon Powder, Organic Coconut Oil, Organic Natural Flavors, Organic Himalayan Pink Salt, Organic Monk Fruit, Organic Almond Chopped. Contains Peanut, Almond, Coconut and Naturally Occurring Caffeine (28mg). Manufactured on that processes peanut, almond and coconut.
% Daily Values are based on a 2,000 calorie diet. + Daily Value not established.