Man
MEN'S ADVANCED NUTRITION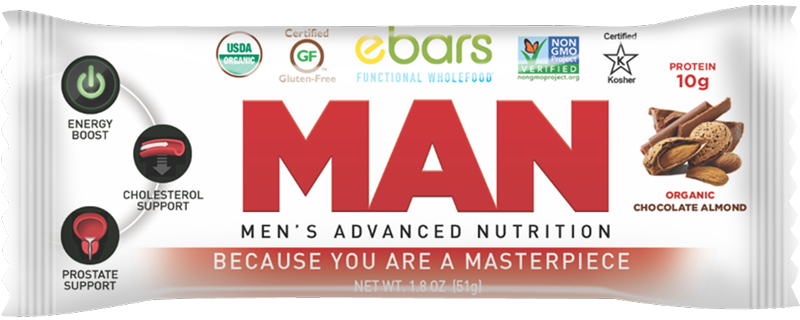 AN UNPRECEDENTED WHOLE FOOD BAR FORMULA FOR MEN
Maintaining high energy throughout the day is something we desire. We can maintain our energy levels the entire day if we are aware of what nutrition stabilizes the glucose levels in our blood. MAN is low glycemic and therefore, nutritionally stabilizing. Additionally, MAN inhibits the stimulation of the hunger hormone ghrelin by including an efficacious amount of Shitake mushroom.
All this "fancy formulating" wouldn't mean much if MAN didn't taste great. MAN is rich with almonds as it's primary ingredient. Almonds contain large quantities of healthy mono and polyunsaturated fats. The American Heart Association recommends at least 4 handful-sized (23 almonds) per day. You get that in just ONE MAN bar a day.
*MAN can be safely consumed by women or children.
Ingredients
Ingredients: Organic Almond, Organic Honey, Organic Oats, Organic Blueberries Dried, Organic Flaxseed, Organic Cranberries Dried, Organic Pumpkin Seeds, Organic Brown Rice Crisps, Organic MAN Mushroom Blend, Organic Cocoa Butter, Organic Cocoa Powder, Organic Coconut Sugar, Organic Raspberry Powder, Organic Cinnamon, Organic Quinoa Crisps, Organic Guarana, Organic Coconut Oil, Organic Extracts, Organic Himalayan Pink Salt, Organic Peanut.
Contains: Organic Peanuts, Organic Cocunuts, Organic Caffeine (23mg)
Manufactured on equipment that processes products containing peanuts.
Manufactured on equipment that processes peanut, almond, and coconut.
Contains a LOW level of organic caffeine (23mg). Most adults can safetly consume up to 400mg a day and most children up to 100mg a day.*
* Mayo Clinic
Nutrition Facts
Serving Size: 1 Bar (51g)
Amount/Serving
%Daily Value*
Total Carbohydrate

23g
8%
Sugars
11g (incl. 9g Added Sugars)
22%
*Percent Daily Values are based on a 2,000 calorie diet
ebars is a dedicated Organic facility. We do NOT share our equipment.
The statements presented here have not been evaluated by the Food and Drug Administration. This product is not intended to diagnose, treat, cure, or prevent any disease.
Immune System
Meal Replacement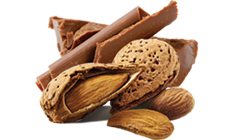 Man
Chocolate Almond