https://www.ebars.com/store/bars/music-city-snack-bar
Share this product beyond Facebook and Twitter!
Copied!

Music City
Decadent Chocolate Raspberry
FREE Shipping on domestic orders over $70.00!
Rich in culture, taste and its mission!
Like others, our family has been touched by Nashville's creative community. We owe a great debt to those who have come before us to make the world and Music City a better place. They have left a legacy that continues to inspire generation after generation. This is what moves us at eBars and the reason we are honored to pay homage to our city by creating The Music City Bar.
The Music City Bar is a healthy snack bar as rich in taste as Nashville is in music. Whether you enjoy a glass of red wine, a bowl of ice cream or a cup of coffee, the Music City Bar is the perfect compliment!
The Music City Bar's mission is to honor our city and support those who have felt the devastation of the 2020 tornados and COVID-19. Our team read an article that Country Music artist Brad Paisley and his wife Kimberly Williams-Paisley partnered with Belmont University and The Second Harvest Food bank. In 2020, they opened The Store, whose mission is "to empower and dignify individuals and families who are seeking self-sufficiency by providing choices for healthy food." We were so moved by this incredible mission of "dignity" that we decided to pledge 10% of all the sales from The Music City Bar back to The Store.
What's Inside?
ebars is a dedicated organic facility. We do not share our equipment.
Flax Seed
Flaxseeds are a nutritional powerhouse rich in alpha-linolenic acid (an Omega-3 fatty acid), which most men are deficient in.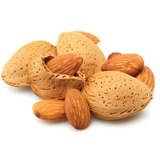 Almonds
Almonds are packed with vitamins, minerals, protein, and fiber, and are associated with a number of health benefits. Just a handful of almonds — approximately 1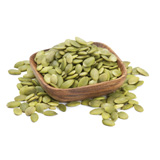 Pumpkin Seed
Pumpkin seeds are full of antioxidants, and a healthy source for zinc, magnesium and tryptophan, which promote healthy sleep.
Nutrition Information
| Amount Per Serving | | % Daily Value |
| --- | --- | --- |
| Calories | 210 | |
| Total Fat | 9g | 14% |
| Saturated Fat | 2g | 10% |
| Trans Fat | 0g | 0% |
| Cholesterol | 0g | 0% |
| Sodium | 44mg | 1% |
| Vitamin B9 | 400mg | 100% |
| Potassium | 300mg | 5% |
| Total Carbohydrate | 22g | 7% |
| Dietary Fiber | 6g | 24% |
| Sugars | 12g | 23% |
| Protein | 8g | 16% |
Ingredients
Organic Almond Butter, Organic Raw Unfiltered Honey, Organic Rolled Oats, Organic Flax Seed, Organic Pea Protein Isolate Powder, Organic Pumpkin Seed, Organic Cocoa Butter, Organic Cocoa Powder, Organic Apple Sauce, Organic Coconut Sugar, Organic Raspberry Powder, Organic Coconut Shreds, Organic Coconut oil, Organic Cranberries Dried (Cranberries, Apple Juice), Organic Maqui Berry Powder, Organic Natural Flavors, Himalayan Pink Salt, Organic Peanut Chopped Contains: Peanut, Tree Nuts (Coconut, Almonds)
% Daily Values are based on a 2,000 calorie diet. + Daily Value not established.
Indulge Yourself
Raw, unfiltered honey and full of oats, flaxseed, and pumpkin seed. Our low glycemic house-made chocolate has absolutely no processed sugars. Each ingredient is USDA Certified Organic including our fresh-made almond butter. So indulge yourself on the delicious guilt-free Music City Bar!
Frequently Asked Questions
There is absolutely no processed sugar of any type in this bar. The Music City bar does contain natural sugars found in our 100% organic ingredients.
Customer Reviews
Review
Love the taste! My new favorite bar!
Show more
Review
I just tasted this for the first time and WOW!
Show more