https://www.ebars.com/store/java-energy-bites
Share this product beyond Facebook and Twitter!
Copied!

Java Bites
Chocolate Espresso
FREE Shipping on domestic orders over $70.00!
Java the Perfect Pair for Coffee Drinkers
Java contains real freshly roasted coffee (we roast the coffee to perfection here at our plant). This gives Java a vibrant and "fresh" taste that cannot be artificially duplicated. Java is not baked. It is cold-pressed (like all our bars) offering the smooth texture of a soft brownie. Java is grain-free. In fact, it's lectin free (For more information on the anti-inflammatory characteristics of lectin-free ingredients please see the bottom of this page).
No Bake Brownie Like all our bars, there is no baking involved. This ensures the highest amount of nutrition. People are astounded that the bar has a baked brownie texture and is made from our own proprietary chocolate which we craft here from raw cacao and is free from cane sugar, lecithin.
What's Inside?
ebars is a dedicated organic facility. We do not share our equipment.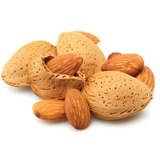 Almonds
Almonds are packed with vitamins, minerals, protein, and fiber, and are associated with a number of health benefits. Just a handful of almonds — approximately 1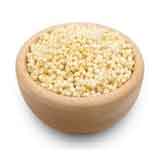 Puffed Millet
In addition to being low in fat, millet is also gluten-free, making it a nutritious option for people who are gluten-intolerant or who have celiac disease.
Yacon
The Yacon root has many natural health benefits and is used to aid digestion, prevent digestive issues, reduce cholesterol, promote healthy weight. and is safe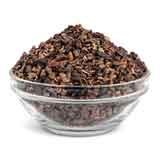 Raw Cacao
Cacao stimulates the release of several major neurotransmitters. Resulting in improved mood while boosting learning and memory.
Nutrition Information
| Amount Per Serving | | % Daily Value |
| --- | --- | --- |
| Calories | 95 | † |
| Total Fat | 5g | 8% |
| Saturated Fat | 1g | 6% |
| Trans Fat | 0g | 0% |
| Cholesterol | 0g | 0% |
| Sodium | 20mg | 1% |
| Total Carbohydrate | 9g | 3% |
| Dietary Fiber | 2g | 8% |
| Sugars | 2g | 4% |
| Protein | 2g | 4% |
Ingredients
Organic Almond Butter, Organic Yacon Syrup, Organic Raw Unfiltered Honey, Organic Cocoa Butter, Organic Puffed Millet, Organic Raw Cacao Powder, Organic Flavor, Organic Guarana, Organic Monk Fruit, Himalayan Pink Sea Salt, Organic Peanut. Contains: Peanut, Tree Nuts (Almonds).
% Daily Values are based on a 2,000 calorie diet. + Daily Value not established.
The first organic lectin free bar
Lectins can wreak havoc on your health and have been shown to be a major cause of inflammation, disease and unwanted weight gain.
No Bake Chocolate Brownie
Java is made from our own proprietary chocolate which we craft here from raw cacao and is free from cane sugar, lecithin.